Texas education officials on Friday provided more flexibility to school districts that want to limit or delay in-person classes to start the 2020-21 school year, a measure of relief for educators and families who argued the state was putting public health at risk by moving too fast to reopen campuses.
Revised guidance released by the Texas Education Agency allows public school districts to require students with at-home technology to begin the year in virtual classes for up to eight weeks — up from the original three-week maximum.
State officials also partially reversed course on a mandate that all students must have access to full-time, in-person instruction if they want it. Under the new rules, districts can limit high school students with at-home technology to 40 percent of their time on-campus during each grading period, provided the remaining time is spent in virtual classes.
The changes came as the state's top political leaders announced they will allocate $200 million in federal coronavirus relief funding for spending on computers, wireless internet hotspots and other technology devices used for at-home learning. The state also will assume a more hands-on role in technology purchasing this month as the prospect of virtual-only classes increases and some districts continue to struggle with obtaining hardware.
Taken together, the moves mark a significant shift in the state's approach to the 2020-21 school year, which appears increasingly likely to begin online for many students amid a recent increase in COVID-19 cases, hospitalizations and deaths. While some educators and elected officials, including President Donald Trump, have pushed to reopen schools as quickly as possible, others have argued the public health concerns outweigh the well-known benefits of face-to-face instruction for children.
Texas districts still risk losing funding if they do not offer in-person classes to any students who lack computers and internet access at home to start the year. However, many districts in regions with widespread COVID outbreaks — including Greater Houston — are working toward equipping enough students to begin the year online-only.
"Our framework ensures there will be on-campus instruction available for all students who need it in the state of Texas," Education Commissioner Mike Morath said in a statement Friday. "But at the same time, we know we need to provide local schools flexibility to adapt to local health conditions, especially given the rise in COVID cases we're seeing across the state."
The new state guidance allows all districts to require online-only instruction for students with at-home technology for the first four weeks of school. Districts can apply to the TEA for another four weeks, though they must provide "at least some" on-campus instruction if approved. TEA officials did not specify how many students must have access to in-person classes to meet that standard.
The option to offer part-time in-person instruction to high school students — a format commonly called the "hybrid" model — is aimed at limiting the number of people in a building at a given time.
"The concern was, if you had a school with 4,000 kids in it, and 95 percent of them all want to come back on campus, it's obviously difficult to do distancing in that environment," Morath said Friday in a call with Texas superintendents.
While deaths and severe complications from COVID-19 among teenagers is rare, early evidence suggests the risks are greater for older students than younger ones.
The TEA's revised guidance drew complaints from the state's largest education employee organizations and unions, who were among the most vocal opponents of the initial guidelines released earlier this month. While some offered tepid applause for the added flexibility, they each argued state officials needed to install clearer, stricter reopening guidelines.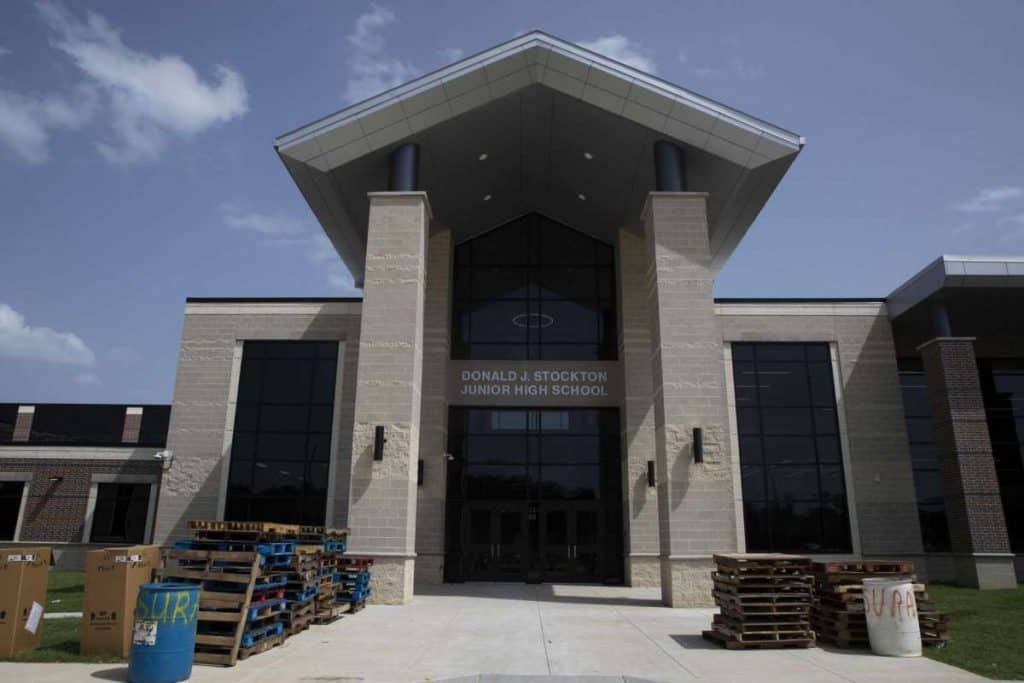 Leaders of the Texas Classroom Teachers Association said state officials should establish benchmarks that clarify when it is safe to resume in-person classes, such as rates of confirmed COVID-19 cases and positive tests.
"That way, (districts) wouldn't have to wait for the goodwill of everybody else to change their planning," said Paige Williams, the organization's director of legislation.
'Anxious and nervous'
The state changes add another layer of complexity to preparing for the upcoming school year, as districts scramble to roll out schedules, safety plans and options for families.
In anticipation of a change in guidance, Houston ISD announced Wednesday that it plans to remain online-only for its first grading period, which lasts six weeks. District officials also said they plan to delay the start of school by two weeks, moving the first day of classes to Sept. 8.
HISD officials hope to reopen campuses Oct. 19, but Interim Superintendent Grenita Lathan said public health circumstances will dictate whether that happens.
Officials in Aldine and Alief ISDs said they would start in all-virtual classes for the first three weeks, while Fort Bend ISD leaders said they will stay online-only indefinitely, with exceptions for a small percentage of students.
Several other school districts have released plans for reopening campuses that, for now, do not include online-only plans in August. However, superintendents in Conroe, Humble and Spring Branch ISDs, among others, said they are monitoring public health conditions and could decide in the coming days to keep campuses closed.
Spring Branch Superintendent Jennifer Blaine, whose district released a reopening plan Wednesday, said she plans to make a closure decision no later than the end of the month. Blaine said she first wants to see results of a survey sent to parents this week asking whether they want in-person classes or online-only instruction for their children.
"We don't want to string this out," Blaine said. "People are anxious and nervous. People want to know what the plans are going to be for August."
The about-face on hybrid models in high schools, however, likely will cause some districts to re-evaluate their plans.
The tech gap
The possibility remains that local health officials could order the short-term closure of campuses, negating district efforts to reopen schools for now.
Health officials in several of the state's most-populous counties — including Dallas, El Paso, Hidalgo and Travis — have ordered all public and private schools in their jurisdictions to remain closed through at least Labor Day.
TEA officials said they will continue to provide funding to public schools closed by a local health order, as long as they continue offering virtual instruction. Gov. Greg Abbott has not given any indication that he plans to overrule local health orders or TEA's funding plans, though Texas Attorney General Ken Paxton issued a guidance letter Friday stating it is unconstitutional for local health officials to shut down private religious-affiliated schools.
None of the Houston area's local health authorities have issued school closure orders, though Harris County officials have said they are monitoring developments across the state.
The growing likelihood of millions of students learning from home has added urgency to efforts to outfit families with technology, a challenge as school districts and organizations across the country compete for a limited supply of hardware.
In the past week, Morath discussed plans with Texas superintendents to coordinate with them on buying technology in greater bulk, potentially speeding up the delivery of devices amid supply chain and backlog issues.
"The state is going to use the strength and size of Texas to get better pricing and availability, to get the technology to our local districts."

Texas House Speaker Dennis Bonnen
Some districts have said they will be able to provide computers and hotspots to all families, while others have been less certain.
Houston ISD Interim Superintendent Grenita Lathan said Wednesday that the district is working toward outfitting all families in need of technology, but she stopped short of guaranteeing the district would meet that goal. Surveys conducted over the district's summer break suggested about half of families needed a computer, while about one-third needed more reliable internet access.